THE EXQUISITE BEAUTY OF THE STILT FISHERMEN IN SRI LANKA
In the tranquil waters of the gazing sun a group of Stilt Fishermen can be seen settled atop lofty stilts. Their fishing lines emit into the depths beneath at sea. This is the culturally dribbled traditional art of stilt fishing in Sri Lanka. A peculiar art at practice passed down from generations of Sri Lankan stilt fishermen. This traditional art captured by sunrise and sunsets have become a popular subject for photography in your journey.
For generations in Sri Lanka, these proficient fishermen have settled on ligneous stilts at sea, casting their lines into the blue waters beneath. This catch of sight is candidly captivating as it presents the life of traditional Sri Lanka. Stilt fishing can be discovered in the Southern coast of the Island in the towns of Koggala, Galle and in Weligama. Many of these stilt fishermen have had their craft passed down from their fathers.
THE ENTHRALLING EXPERIENCE OF STILT FISHERMEN IN SRI LANKA
The best time to observe stilt fishing in Sri Lanka is during the sunrise and during sundown. The fishermen are warm and friendly no different to the Sri Lankan people you will encounter during your journey. They are also happy to pose for your pictures and rejoinder your questions on their eccentric craft.
And don't forget to benefit from hiring a local photographer during your travel to Sri Lanka! You will be met with personalized guidance on photography techniques and promising locations to take your pictures! It's because of their understanding of how to use angles, lighting, background and a ton of creative flair. Their connections to the local fisherman will give you access to arranged sunrise and sunset photography customized to your needs. You will even be issued a model release documents.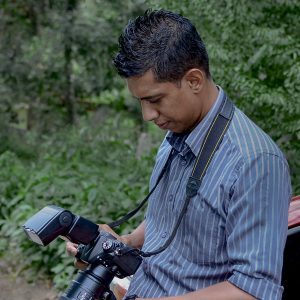 Saman Weeratunga is a Sri Lankan travel and portrait photographer based in Kandy, Sri Lanka. He is passionate about travel and aim to visit new places as much as he can. He has traveled and photographed some of the most amazing countries like Switzerland, Austria, France, Germany, Poland, Netherlands, Belgium, Czech Republic, Singapore, Malaysia etc. Besides his own travel photography, he conducts specific photo tours in Sri Lanka using his experience in photography and his years of knowledge on local photography destinations.
As you loom near these fishermen, you will observe the visuals of their glaring clothes and hats of spectacular colour. Some will even offer you a seating on their stilts for a small fee where you get to experience a lifestyle. One of many Stilt fishing facts, the technique used to fish alight on their tottering stilts is simple, yet effective. They cast their lines into the water and enduringly wait for the fish to clip the bait. And the bare hands of these fishermen are used to swerve the fish in. Although, pleasing to the eye, it's a skill that segments years to master, modeled by the fishermen to look effortless.
Photography By: Saman Weeratunga
THE STUPENDOUS CRAFT OF STILT FISHERMEN IN SRI LANKA
The craft of stilt fishing is a setting capturing the natural and exotic beauty of the paradise island, Sri Lanka. You will witness the sandy beaches, the turquoise blue waters and the jaunty breezes of the coastlines. This craft of stilt fishing as a traditional way of life is captured and immersed into paintings by Sri Lankan artists. Stilt Fishermen paintings are found in art galleries and in the street of local towns in Galle, Koggala, and Weligama. You can take a piece of Sri Lanka home with you whether you're an art connoisseur or heeding for a souvenir.
This bewitching craft is just one out of the many reasons to visit Sri Lanka. The island is known for its lavish history, multifarious cuisines, tasteful art, exotic travel, luxury hospitality and its warm people. This paradise island is for everyone, whether you're looking for a quest in the wildlife, ancient temples or a soak in the sun.
You encounter the opportunity to grasp unique, striking images of these fishermen that have become iconic symbols in Sri Lanka's cultural heritage. The famous American Photo Journalist Steve McCurry captures Sri Lankan stilt fisherman in their work of art in his enthralling work. The photograph of Steve McCurry ornaments to have become a legendary representation of Sri Lanka's culture and tropical beauty. So to get started, why not add stilt fishing in Sri Lanka to your travel journey? It is an astounding and unfathomable experience that is distinct from any other adventure. And who knows, you may even end up snatching a fish or two while you're at it!