WHY YOU SHOULD HIRE A PHOTOGRAPHER WHEN YOU TRAVEL
Hire a photographer Sri Lanka is a great choice for travelers who'd prefer someone else take the photographs of them and the places they visit in Sri Lanka. If you don't wish to carry big, complicated and heavy cameras around everywhere you are traveling to, but still want to have professional quality photographs, then hire a photographer and keep your memories colourful. The photographer will travel with you and take the photos of the places you are visiting and of you wherever you want them.
BENEFITS OF HIRING A PHOTOGRAPHER ON VACATIONS
Local Travel Photographers Know Best: The best people to help you unearth the secrets of a destination are the ones who live there and local photographers around Sri Lanka are eager to show travelers their home cities through a local lens. Not only will they help frame, capture and edit a handful of high quality photos for you to look back on, they'll also happily steer you through hidden laneways, point out the best eateries and bars nearby or help you strike up a conversation with locals.
Get Good Shots Every Time: Travel photographers across Sri Lanka are trained professionals who know how to combine all the elements to create a collection of images worth framing and to pass on through the generations. There's a reason people call on professionals and it's because of their understanding of how to use angles, lighting, background, focus and a ton of creative flair.
Access To A Full Professional Photographer Kit: Most people travelling are using their phones to take photos. Some might have a proper camera, but you won't be travelling with the full set up. Various lenses for different types of shots. Fancy external flashes that light you up in just the right way to make you look stunning. Light modifiers and lots of other fancy stuff that you certainly cannot fit into your baggage.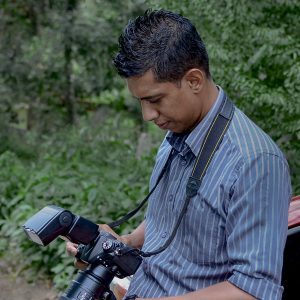 Saman Weeratunga is a Sri Lankan travel and portrait photographer based in Kandy, Sri Lanka. He is passionate about travel and aim to visit new places as much as he can. He has traveled and photographed some of the most amazing countries like Switzerland, Austria, France, Germany, Poland, Netherlands, Belgium, Czech Republic, Singapore, Malaysia etc. Besides his own travel photography, he conducts specific photo tours in Sri Lanka using his experience in photography and his years of knowledge on local photography destinations.
No Need For Selfies: If you're a solo traveller, there's no reason your travel snaps should be limited to selfie sticks. Thanks to the help of a travel photographer, you can forget having to stand precariously on a mountaintop trying to get the right shot, or asking someone at dinner to take your photo, only to find it's blurry. Instead, you can enjoy the experience of documenting your travels in style, and having a skilled eye behind the lens is the perfect way for solo travellers to capture a more candid and natural shot.
Get Everyone In The Frame: On every trip, there's often one person who will generously capture photos of the group. The downside? That person misses out time and time again from being in the shot.
Hire A Photographer Sri Lanka
Hire A Photographer Sri Lanka
Hire A Photographer Sri Lanka
Hire A Photographer Sri Lanka
Hire A Photographer Sri Lanka
Hire A Photographer Sri Lanka
Hire A Photographer Sri Lanka
Hire A Photographer Sri Lanka
Hire A Photographer Sri Lanka
Hire A Photographer Sri Lanka
Photography By: Saman Weeratunga
The Travel Photographer Will Guide You To Perform The Photos: Probably you might not know how to pose, but with the guidance of your travel photographer, you will be amazed with the outcome of the pics and how natural they look because they are formed and prepared to do that.
Beautifully Taken And Edited Photos: The key to a great photo is usually in the post editing. You don't have to worry about anything, but just turn up. They take you around, take your shots, edit them up, and you'll get a nice little email with all of the best photos.
HOW TO HIRE A TRAVEL PHOTOGRAPHER
Inquire For Your Dates: Check availability for your travel dates with the travel photographers in any of your destinations in Sri Lanka.
Book Your Shoot: Tell your shoot preferences, such as 'must have' photos and preferred time of day. At this step you can pay, and your date is officially reserved with a travel photographer.
Shoot Day: It's all about having fun during your vacation photo session! Enjoy roaming the city while the travel photographer captures your travel story.
Love Your Vacation Photos: You will get a link to your private gallery with all the best shots from your shoot. Pick your favorite photos to download and the memories are yours to treasure forever. Photos are edited & high resolution.